Having strong links to the local community, IMB partnered with ADM Architects and Piruse Constructions to create their new state of the art headquarters located in Wollongong.
The A-Grade office building was completed in 2020. It's 6,500sqm, and has a 5 star NaBERS energy efficiency rating. 
Profile Systems worked closely with IMB and ADM Architects to provide office furniture that was functional, versatile and able to meet the needs of the different internal divisions of the IMB staff.
Profile Systems are an Australia owned and operated company who specialise in the design, manufacture and install of bespoke furniture & joinery solutions for commercial office spaces. They are also a proud stockist of Buro Seating.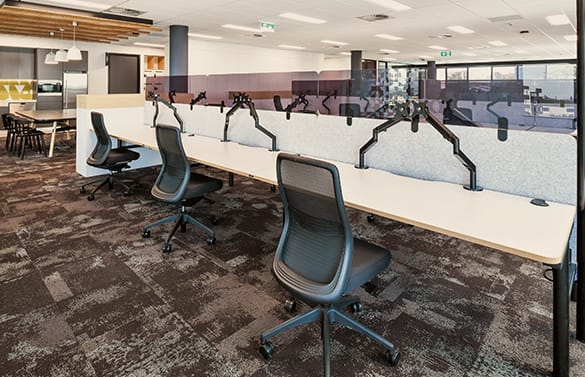 When a chair is as easy to set up and adjust as the Konfurb Luna, it encourages regular mobility which stretches muscles and joints, and pumps freshly oxygenated blood around the body. It will reduce the fatigue and physiological stasis that accompanies prolonged static sitting.
330 Konfurb Luna chairs were selected for the IMB Finance Division, where multiple units feature in the open plan co-working office space.
The Konfurb Luna was chosen for its high ergonomic rating.
The Konfurb Luna is a popular chair for office or home office use, not only for its ergonomic rating but its streamline profile and slim back feature. The combination of a foam moulded seat, waterfall edge, mesh back and an easily adjustable synchronous mechanism is the ideal combination of comfort, breathability and dynamic posture.
Featured images: admarchitects.com.au