With style up front and quality at its core, the Konfurb range brings designer good looks to everyday spaces.
The Konfurb range harnesses the best of international design to create extremely good looking furniture. But Konfurb is more than just a pretty face, with a focus on excellence in manufacturing, this range is ideal for commercial fit-outs. We offer many customisable options to support the broader design vision of any space and create a visual language that speaks volumes, without compromising on durability or comfort.
Award-winning design
After 25 years of making the best seating we can, it's nice to be acknowledged and the Konfurb range has received its fair share of accolades. Three seating superstars from this range have received the prestigious iF Design Award: the Konfurb Fly, designed by Claudio Bellini, the Konfurb Duoblock and the Konfurb Harmony, both designed by Martin Ballendat. It's rather a big deal for designers and manufacturers and reminds us that these really are world champions in seating design.
Custom solutions and manufacturing excellence
The Konfurb range is also highly customisable for spaces where both design and function must meet specific needs. Our expert team collaborates with procurement managers, architects and interior designers on a wide range of commercial fit-outs. By bringing in-depth knowledge and options to a design brief, we can offer solutions such as custom upholstery, specialty fabrics, modified designs or felted bases to suit a variety of floors. It's this attention to detail and evidence-based experience around how spaces are used that means our Konfurb range can truly enhance people's everyday experience.
Designed with aesthetics in mind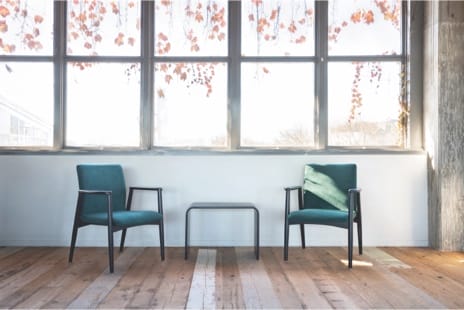 From modular soft seating to sleek office chairs, bar stools, and elegant occasional chairs, the Konfurb range is designed with contemporary interiors in mind. Adaptable, inviting and able to blend effortlessly into a wide range of spaces – we've included customisable options to work with commercial fit-outs or existing interiors.
Explore Konfurb case studies
Our team and trusted partners can help you find the perfect seating solutions.
Find a reseller
Find a store near you for workplace or home office chairs, commercial interior fit-outs, or healthcare and aged care seating.
Shop online
Choose to shop online from a range of our trusted online Resellers that stock our products.
Find a showroom
Drop into one of our showrooms to talk with an expert, see and test our products in real life.