Seating for the evolving needs of the education industry, helping students and teachers to expand their horizons.
Our range of educational seating is designed to enhance the learning process by optimising the space and leveraging the principles of great furniture design. With a widely customisable range of school chairs, modular seating, stools and desks, we can collaborate with the unique vision of any educational space.
Supporting a wide range of learning styles
The ways we teach and learn are always evolving and so are the spaces we do it in. Our education seating range offers a huge variety of options to meet the needs of different educational models. From solo study to traditional classroom formats, communal work, meetings and breakout spaces. We have options to support a whole range of activities while delivering consistently safe, durable and stylish seating.
Expert support for custom fit-outs
We collaborate closely with interior designers, architects and education specialists to develop furniture fit-outs for a range of education environments from secondary schools to universities and community spaces. we offer tailored solutions to design briefs, which may include custom upholstery, specialty fabrics, modified designs, or felted bases that are suitable for a variety of flooring types. Ergonomic design and over 25 years experience means we are top of the class when it comes to educational seating.
CAMPFIRES
Best for sharing of knowledge or skills. Storytelling, demonstrations or group discussions.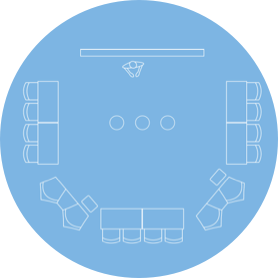 WATERING HOLES
Small groups of seating encourage teamwork and equal distribution.
CAVES
Reflective learning environments that encourage personal space physically, symbolically, or both.
Source: David Thornburg, who has been described as the "premier futurist in educational technology", identifies in his book, 'From the Campfire to the Holodeck: Creating Engaging and Powerful 21st Century Learning Environments' three archetypal learning spaces: the campfire, the cave, and the watering hole. Each space has a distinct function in human learning that corresponds directly to being a disciple and a learner.
Our range of school chairs comprises our most sought-after educational seating options. Having said that, our full product range encompasses almost every piece of seating you could imagine needed for a learning space, including desk chairs, stools and student tables. From there, we customise, collaborate and innovate to deliver seating solutions that inspire students to learn and reach their full potential.
Our team and trusted partners can help you find the perfect seating solutions.
Find a reseller
Find a store near you for workplace or home office chairs, commercial interior fit-outs, or healthcare and aged care seating.
Shop online
Choose to shop online from a range of our trusted online Resellers that stock our products.
Find a showroom
Drop into one of our showrooms to talk with an expert, see and test our products in real life.