John McGlashan College is a high-performing Year 7-13 secondary school for boarders and dayboys in Dunedin New Zealand. 
In 2021 after years of planning  John McGlashan College renovated their dinning hall.  Metalon, local commercial furniture manufactures, managed the renovations.
Metalon utilised the existing tables and leaners in order to retain the heritage of the space and make the project more sustainable. They reduced the sizes of the tables and leaners, so they could be more easily moved for different layouts. They were refreshed with a hard-wearing tops and custom manufactured new steel frames. Laminex tops with a durable plywood-look edge were fitted to all the other tables, making them more durable and wipeable.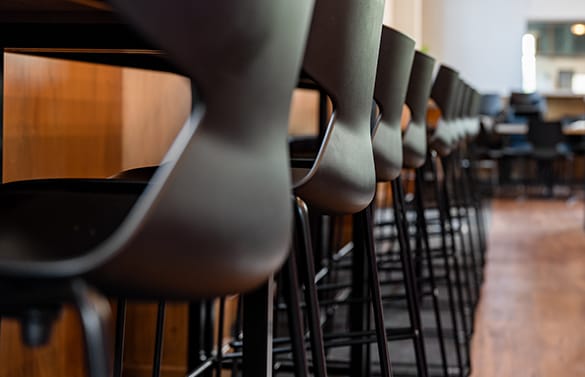 The main problem to solve was that the old long bench seats weren't giving them enough flexibility to rearrange the furniture into multiple layouts for different events.
Metalon designed and built mobile planter trolleys, to incorporate more nature in the space and help increase the vitality and a sense of calm amongst the students and staff.
The college were having issues with poor acoustics in the large open space of the dining room with the sound bouncing off the walls. To fix this they added acoustic panelling to absorb the sound making conversations more easeful. To top it off, the kitchen equipment was upgraded and new flooring was added.
The old fixed long bench seats were replaced with Konfurb Fly Sled Barstools and Konfurb Fly Sled chairs with black shells with black powder coat frames. The Konfurb Fly Series merges comfort, by sleekly mirroring the shape of the human body, with crucial durability for daily hard-wearing use.
The new individual seating of the Konfurb Fly allow the school to cater for meetings and functions with multiple layouts and change the look and feel of the space easily and quickly.