Weiti Creek Medical Centre in Auckland opened in September 2020. The healthcare facility includes a medical centre, dental surgery and pharmacy.
DLM Architects lead the Weiti Creek Medical Centre fitout project, which included transforming the reception area into a welcoming space through interior design styling and healthcare seating.
The look and feel of the waiting area impacts how patient feels about their medical experience. The fitout invites a feeling of health and vitality through the use of the green colour palette. Green tones extend beyond the waiting room wall to the seating supplied by Fuze Interiors.
The seating gives patients a few options to choose from with a combination of Buro Lindis 4 Leg chairs with and without arms and the soft seating of the Konfurb Stem (A).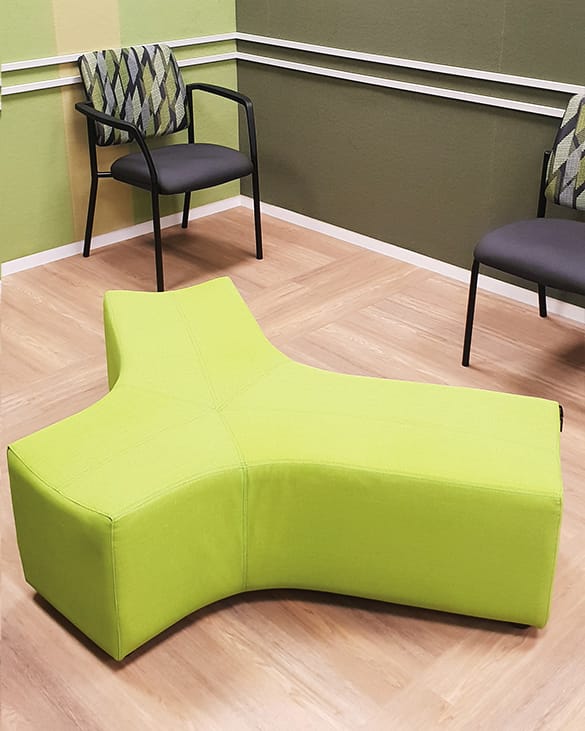 The long floor plate provided some challenges but the end result is crisp, relevant and user friendly.
A fresh palette of yellowy greens with accents of charcoal can be seen throughout the custom upholstery selected for this fitout. The Buro Lindis chairs with custom black powder coated frames feature custom upholstery from Textilia: Facet 'Neon' on the chair backs and Tessuto 'Carbone' on the seats.
Buro Lindis chairs feature a strong, reflective, powder-coated stackable frame and unsurpassed comfort. They're a popular choice of chair amongst medical centres. Having a range of chairs to choose from with arms and without arms, makes the space accessible for those with different body shapes and needs.
Konfurb Stem (A) is modular soft seating in a 'Y' shaped design. The two pieces make the waiting room flexible and adaptable to changing needs, rearranging them together or separated. The Konfurb Stem's are custom upholstered in Tessuto 'Verde' providing comfortable and inviting seating in the waiting area for patients who would like to sit closer together such as children and parents.
The ergonomic Buro Roma 3L MB office chairs are used for staff in reception areas and practicing rooms.
Photo credit DLM Architects.