Similar to our Buro Knee kneeling chair, the Buro Bambach Saddle Seat offers an alternative sitting option to the common office chair. Though popular amongst dentists and veterinarians, saddle chairs can be beneficial for anyone with back pain.
What is a Buro Bambach Saddle Seat chair?
The Buro Bambach Saddle chair is an ergonomic stool which features a seat that's modelled on a horse saddle, 
The Bambach Saddle chair was originally designed by an Australian Occupational Therapist in 1988, and has been optimised over the years. It was the first of its kind worldwide, and to this day many health experts choose the saddle seat as their preferred chair that provides plenty of support and encourages an upright ergonomic posture.
How to use a Buro Bambach Saddle Seat chair?
Sit on a saddle chair just as you would sit on a horse. Your buttocks should rest comfortably towards the back edge of the seat, so your sitting bones are on the softest part of the seat. Relax your legs alongside the chair, rather than out in front like a regular office chair.
Place your feet flat on the floor and allow your knees to be positioned lower than your hips, creating a stable and balanced position. There should be about a 135 degree angle in your knees and between your thighs and your upper body. This supports your pelvis to tilt forward and maintain the natural curve in your lower back. 
If you are used to sitting in poor posture or on a traditional office chair, your body could take two to three weeks to get used to your new saddle seat chair. Sitting on a Saddle Seat chair engages your core and inner thigh muscles, so may cause initial muscle fatigue. However after sitting on a Buro Saddle Seat chair long-term you'll strengthen your back, abdominal, and buttock muscles and your posture will gradually correct itself as your muscles respond to the new posture.
Why use a Buro Bambach Saddle Seat chair?
Many office chairs will compromise your posture by encouraging an unhealthy 'C' shaped curve and compressing the organs. The Buro Bambach Saddle seat chair supports a natural healthy 'S' shape. This posture relieves and prevents back pain, sciatica, and other posture related problems. Below are some of the key benefits shared from Bad Back Shop:
Reduce and prevent pain
The Buro Bambach Saddle Seat chair can be either a preventative or rehabilitative solution for people who may experience pain in their back, neck, upper limbs, or for those who are looking to improve their posture, spinal alignment, breathing and circulation. 
Improves leg circulation and reduce foot swelling
With no edge creating an awkward pressure point under your thighs, leg muscles avoid contact pressure and veins and arteries are in a more open position, therefore improving circulation and reducing swelling. 
Encourages regular movement
As you're positioned higher than a traditional chair, it's easy to get up and down without using your hands. Making you more likely to move regularly. It's recommended to take activity breaks and move every 30 minutes.  
Improves balance
The wider stance stabilises the pelvis in an upright orientation, supporting relaxation and balance. Research shows that those with neurological impairments who find it hard to sit in traditional chairs, sit on their own in a saddle seat.
Enhances hand acuity and strength
By having a more stable foundation and supported posture, the hands have further reach for a range of tasks. This is particularly useful for dentists or veterinarians. 
Discover the benefits in the below video:
Who is a Buro Bambach Saddle Seat chair good for?
The Buro Bambach Saddle Seat chair is popular amongst many speciality practices including: medical, optical, veterinary and dental. They are ideal for people whose work requires frequent reaching, varying work heights, close and accurate task work, long periods of standing, or those who have their work spread over a large area. 
Dental professionals need absolute precision performing procedures over long periods of time, impacting the spine, joints, and muscles. Up to 93% of dental professionals report experiencing pain in their shoulders, hands, lower back and neck.
The Buro Bambach Saddle Seat chair is increasingly popular amongst office workers who care about health and wellbeing. With the explosion in popularity of sit-stand desks, people are more conscious of their health at work. People now understand that back pain or musculoskeletal issues are caused by the way they sit, and the chair they use. Switching between sitting and standing is seen as a way to combat this and the Buro Bambach Saddle Seat chair encourages easeful transitions between sitting and standing. 
Bambach states that over 50,000 Bambach saddle chairs are used by dental workers worldwide and in over 300 veterinary practices in Australia.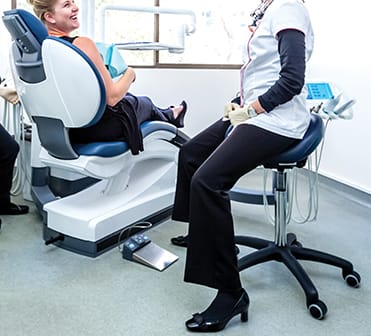 The Buro Bambach Saddle seat chair supports a natural healthy 'S' shape. This posture relieves and prevents back pain, sciatica, and other posture related problems.
Where to buy
Whether shopping for a healthcare facility, a health conscious office workspace or for your own home office, the Buro Bambach Saddle Seat chair will prioritise wellbeing and improve health.