There are many possible distractions while working. Just like psychological distractions, physical discomfort can drain your reserves and reduce your productivity. However, when the body is at ease, the mind will follow.
That's why we design chairs that provide comfort and support. To allow your mind and body to work to their optimum efficiency. We are always considering, how we can use intelligent, human-centred design to support performance at work, at home or at school.
Our product development team works with Andrew Wilson Ergonomist and Osteopath to have each office chair ergonomically assessed.
In this article, we share the criterial we use when working with Andrew to ergonomically assess our chairs.
If you're trialling a chair in store, take note of these five criteria to help you get the best fit-for-purpose chair for your needs.
In our 'How to Ergonomically Assess Office Chairs' video, Andrew Wilson shares his chair ergonomic assessment criteria.
Criteria #1:
The seat
We assess the size and profile of the seat.
Is it contoured to reduce pressure points?
Does it have an effective rounded waterfall-like edge to reduce pressure under the thighs?
What's the quality of the padding?

Is it moulded into a good contour?
Does it have enough density and depth to be comfortable?
Is it still comfortable after prolonged sitting?
Criteria #2:
The backrest
We look at the size and shape of the backrest.
Does it have enough lumbar and pelvic support?
Does it follow the anatomical shape of the spine?
Does it have any pressure points?
Is there any lateral support?
Does it have any dynamic or live movement?
Is there any lumbar support adjustment?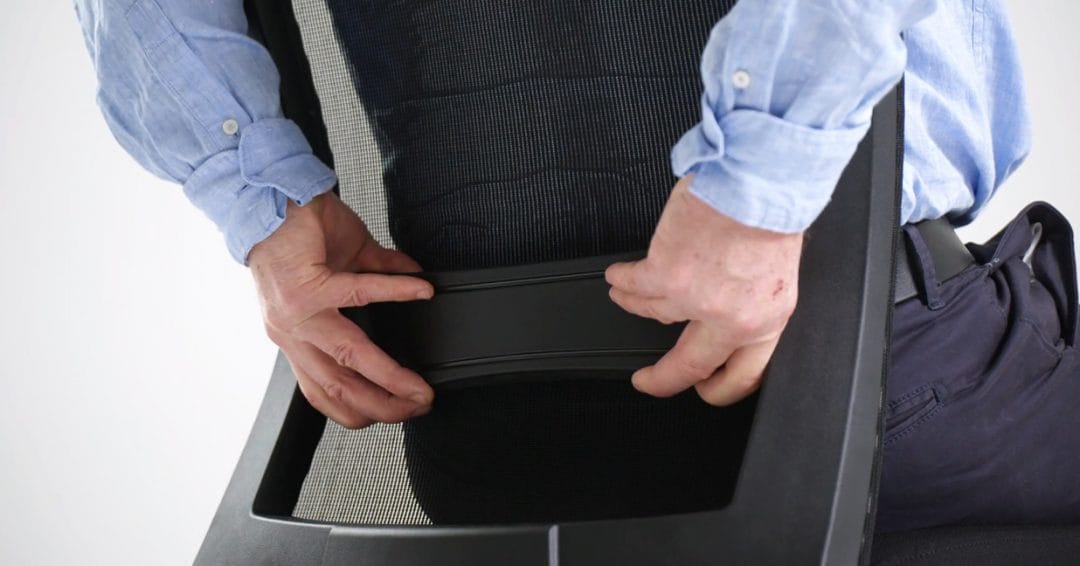 Step #3:
The relationship between the seat and the backrest
Do the seat and the backrest fit well together?
Do they provide good posture with comfort and without pressure points in the three key postures:

Optimum posture (thighs forward sloping 5-10 degrees)
Centre posture (thighs horizontal)
Reclined posture.
Criteria #4:
The range and accessibility of the chair adjustments.

We look at:
What range of adjustments are there?
Are they easy to reach from the seated position?
Are they labelled?
Are they intuitive to use or are they a bit confusing?
Do they meet the minimum standards of the code?
Criteria #5:
Is it biased toward larger or smaller users?
We look at:
Is there enough gas lift range to suit taller users to have their hips higher than knees.
Is the seat and backrest profiles are suited to a wide range of users.
Once all five criteria are completed we write an ergonomic assessment of the findings including the key points, and the type of user the chair is best suited to.
Ergonomic assessments are located on each product page under the downloads tab.