Fostering an inclusive work environment: Te Pā, Auckland.
Te Pā recognised the need for an improved workspace with an inclusive work environment and decided to relocate to a larger office, and reached out to Focus Office Furniture for support with project fitout.
Te Pā is a kaupapa Māori organisation that responds to community needs and vulnerable whānau who are either in the justice system, exiting the system, or have been deported from overseas. Through a range of services they work to restore and enhance physical, mental, spiritual, and whānau wellbeing that support successful transition back into whānau and the community.
The team at Focus Office Furniture took the time to engage with Te Pā staff, gaining a comprehensive understanding of their unique requirements and ensuring they were met. Working alongside an architect, the furniture was effortlessly supplied, delivered and assembled by Buro and the Focus Office Furniture team.
Both Te Pā and Focus Office Furniture share a genuine commitment to enhancing lives, be it by procuring ergonomic furniture or actively supporting impactful community initiatives. The new and improved ergonomic office space aimed to help the health and wellbeing of the dedicated Te Pā team, enabling them to continue their important mahi in our community.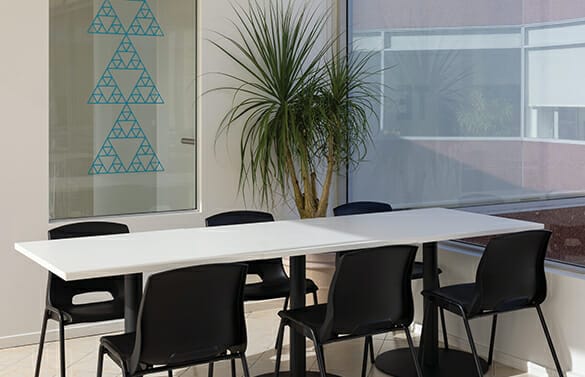 Understanding unique requirements
The project had a tight budget and a four-week deadline to deliver the final space. Because of this, the team at Focus Office Furniture made a conscious decision to repurpose some of the organisation's existing furniture from their previous office. This decision presented a challenge, but the team successfully achieved a harmonious and effective office arrangement. By coordinating the furniture in each room, they created a highly professional and cohesive aesthetic that exuded a sense of refinement.
Additionally, they wanted to maximise their space and fit as many people as possible without giving the team the feeling of being jammed up together.
They had a few other specific requests:
A Whanau room for visitors and children that accompany their families.
A Te Kai area with space for 60 people to dine and meet.
Kai Mahi rooms, which are multiple rooms, each one with its own department of Finance, Operations, Front line, HR, CEO, GM, Reception as well as meeting rooms.
Creating an inclusive work environment
To meet Te Pā's goal of fostering an inclusive work environment, Focus Office Furniture understood the importance of quality ergonomic furniture. They provided height adjustable desks and 79 Buro Roma High Back 3 Lever office chairs, used throughout the Kai Mahi rooms.
The Buro Roma High Back 3 Lever chairs offered comprehensive ergonomic features, with extra padded foam seat and backrest, supportive of a range of body sizes. These office chairs were carefully selected to promote a dynamic and inclusive work environment, where everyone feels empowered and supported and can customise their chair to their exact body size and their needs.
For the dining and socialising seating they provided 46 Buro Quad chairs. The Buro Quad is a durable multi-purpose chair featuring a generous shell size. It's adaptable for spaces, with the ability to move out of the way when not in use and stack up to ten chairs high.
Transformation and positive impact
The introduction of the new office space has brought about a remarkable transformation in the morale of Te Pā's dedicated team. The visually appealing and practical work environment has instilled a sense of confidence and pride among the staff and they're feeling more empowered with the work they're doing.
Focus Office Furniture appreciated the quality of Buro office furniture, they felt confident supplying the chairs for this project fitout as they have long product guarantees and the Buro team is seamless with delivery. Additional they expressed gratitude for the sales team's exceptional support throughout the process.