The humble office chair is the most important piece of furniture in any workplace. Chairs are where we spend most of our working life, so it's vital to choose something high quality, with advanced ergonomics, maximum comfort, and to ensure its longevity, applying a bit of office chair maintenance.
Selecting the right office chair is only one part of the picture, however. You need to maintain and clean your seating to ensure it has a long and happy life.
In this ultimate guide to office chair maintenance, we explain why high-quality chairs are a worthwhile investment, and why it's vital to take good care of them. We also provide top tips for cleaning and maintenance to keep your chairs in pristine condition.
4 reasons why high-quality office chairs are pricier than standard chairs
High-quality chairs are designed with the user's comfort and health in mind, made of the very best materials to keep your body perfectly aligned.
Every component of a high-quality office chair or ergonomic home office chair is selected with care and attention. From fabrics and mesh to wheels and castors, each part has been thoroughly tested to deliver the very best performance.
A basic office chair is just that; basic. A standard chair will only be designed to perform very base-level functions such as upright support. A high-quality office chair will have a range of ergonomic adjustable features.
A cheap chair with low-quality materials won't be as durable as higher-priced options, and the components won't be designed for maximum comfort or support.
Investing in a high-quality ergonomic office chair is a smart long-term option. You'll have long-lasting comfort, a furniture piece you can rely on, and a much lower risk of developing back pain and other health conditions associated with desk work.
Why it's important to look after your chair
Once you've paid for an office chair, you need to look after it. Unfortunately, too many people make great purchases but then forget all about cleaning and maintenance. With proper maintenance, you can give your chair an extended life.
Over time, the different parts of a chair, such as the fabrics, screws and bolts, can be damaged. Regular maintenance and cleaning can slow down any wear and tear and keep chairs in top-notch condition for longer. 

Taking care of your chairs will save money in the long run by keeping your furniture as good as new for longer.
Mondo Soho (featured right).
How to clean your office chair 
Regular cleaning is essential for keeping your chairs in good condition. The cleaning process will differ depending on the type of chair and materials used. 
Here are some helpful tips to keep your seating clean: 
Fabric chairs
Fabric chairs like the Buro Roma and Buro Mentor Upholstered are super-comfortable, but dirt, dust and stains can build up over time. To clean a fabric chair, vacuum first, using a brush attachment to remove loose dirt and dust.
To remove stains, use a mild upholstery cleaner or a solution of warm water and mild detergent. Using a soft cloth or sponge, gently dab stained areas with the solution. 
Rinse the area with a clean, damp cloth to remove any soap residue and allow the chair to air dry.
Leather chairs
Executive leather chairs like the Buro Everest and Buro Maya Recliner require special care and maintenance to prevent damage. Dust your leather chair regularly using a soft, dry cloth to prevent dirt from building up.
Clean leather chairs using a mixture of warm water and leather cleaner once a year. Gently wipe with a damp cloth, and don't soak the leather. Test your cloth on a small patch first to make sure it won't leave marks. 
A leather conditioner can also maintain suppleness and prevent common problems like cracking.
The Buro Everest is a comfortable executive chair with soft-touch leather.
Mesh chairs
Chairs with mesh backs like the Buro Mentor or Buro Elan are perfect for breathability and comfort, but they can become dirty after continued use. To properly clean mesh, vacuum first, using a brush attachment or a low-suction cleaner. For a deep clean of the mesh, on the inside and out, an air gun does a thorough job. 
Use a damp cloth with mild soap to clean stains and dirt, and avoid rubbing the mesh to prevent fraying.
Avoid using harsh chemicals that can damage the mesh. Once you've given it a good wipe, allow it to air dry.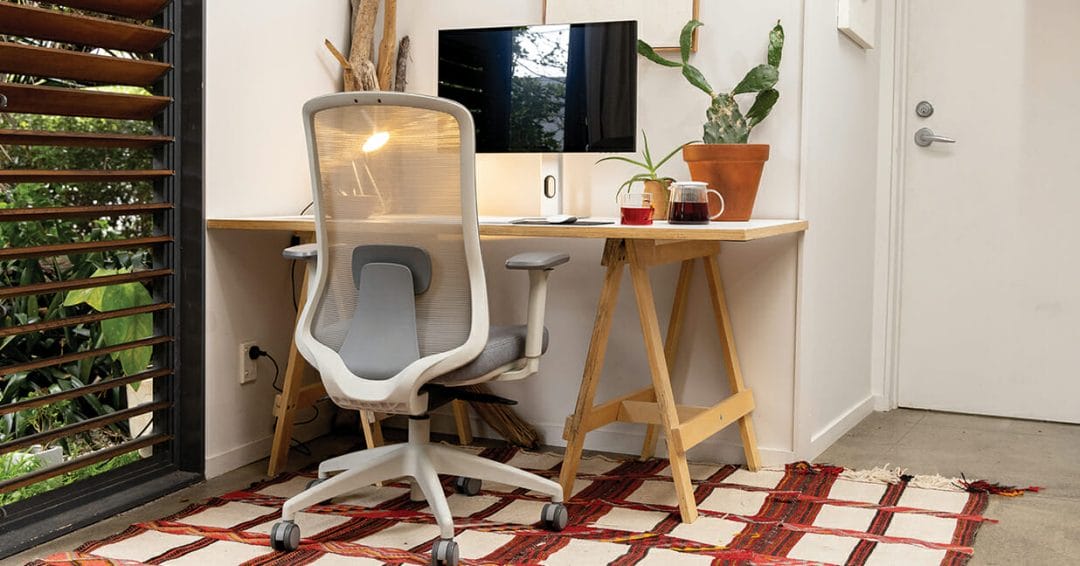 The Buro Elan featured in a home office workstation.
Extra office chair maintenance tips
In addition to regular cleaning, there are other ways to ensure your chair remains in prime condition.
Add the following maintenance tasks into your office cleaning routine to keep your chairs in tip-top shape:
Lubrication
To ensure smooth operation and prevent squeaking, lubricate the moving parts of your office chairs, such as the wheels and height-adjustment mechanisms, with a silicone-based lubricant or WD-40 once every six months.
Inspect screws and bolts
Loose screws or bolts can become a big problem when you least expect it, leading to wobbly chairs and potential accidents. Inspect your chairs and tighten screws that become loose. That way, you'll ensure stability and safety.
Check and replace casters
Worn-out or damaged casters can impair a chair's mobility and stability. Inspect casters every six months and replace them as needed.
Use your product guarantee and ask for help
When you buy a Buro chair, register it with us straight away to secure your 6-10 year guarantee.
We're always here to help if you have an issue with your purchase. If there's a problem, don't hesitate to get in touch with our friendly customer service team.
PS: If your chair has reached the end of its life, please recycle it – more information on how to do that is here.
Taking good care of your office chair is the key to maintaining its longevity and ensuring maximum comfort and support. Now you know all about keeping a chair clean and pristine, check out Buro's range of ergonomic home office seating and soft seating to find furniture that will stand the test of time.