Working out how to get rid of office furniture can be a daunting task, from the logistics of moving large, heavy items out of your building to finding an eco-friendly solution that minimises your environmental impact.
Most organisations don't know where to start, so here are some helpful tips on how to get rid of your pre-loved office furniture in a responsible way.
Five reasons to replace your office furniture
Why would you need to replace your office furniture? Old desks, chairs and office sofas can become worn out and ineffective, reducing their ergonomic performance and comfort.
1. Maintain support:
While a brand-new ergonomic desk chair can improve posture, an old chair past its sell-by date might not provide the right level of support. To protect the wellbeing of your staff, review your office furniture from time to time for wear and tear.
2. Freshen up your office:
New furniture can revamp your office, inject some life into your workplace and give your building a fresher look. It can help you maintain a modern appearance, impress clients and customers, and make your office a more appealing place to work.
3. Look professional:
Outdated or broken furniture might give the impression your organisation isn't keeping up with the times, which could affect your reputation.
4. Switch up your layout:
New furniture might be needed following a layout change or redesign. As organisations rejig their seating setups to get the most out of their space, new furniture can help. A redesign often needs new colours and fabrics to match the new style.
5. Make the most of your space:
Replacement furniture can accommodate additional employees in a growing business, accommodate flexible working, utilise space more effectively, or make the most of small, unused spaces.
How often does office furniture need replacing?
Several factors will influence the life cycle of your office furniture, such as the quality of your desks, chairs or sofas, and the level of daily usage.
As a rule of thumb, office seating should be replaced every five to seven years, depending on the quality of the materials and how often they have been used.
High-quality, ergonomic desk chairs should have a longer lifespan and provide continued comfort and support, but cheaper chairs will be less reliable, as they're usually made from cheaper parts, making them likely to break sooner.
Generally, most office furniture is designed to be replaced within a decade, so keep a close eye on sofas, stools and chairs for fraying materials, broken or missing parts, or reduced ergonomic support. 
Buro's office furniture comes with a 6 to 10 year guarantee depending on the model, and backed with our industry-leading return-to-base servicing and faulty component replacement commitment.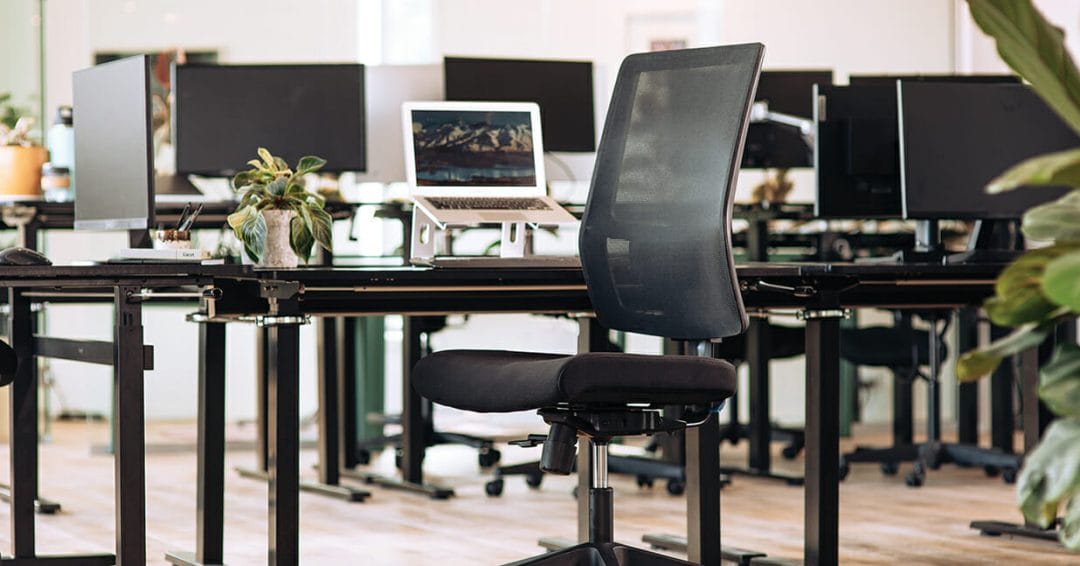 How to get rid of old office furniture 
When it comes to getting rid of your old office furniture, there are plenty of eco-friendly alternatives to throwing it away. Buro encourages customers to repurpose or recycle pre-loved chairs to reduce our collective environmental impact.
The following methods can help you discard unwanted furniture in an eco-friendly way and give old chairs, desks, sofas and stools a new lease of life.
Donate it
Is your furniture piece in good working order? The most environmentally responsible way to get rid of office furniture is to donate it.
If it still works, find it a new home. Charities are always on the lookout for furniture donations for people and organisations in need. Giving away unwanted furniture can help your workplace contribute to a good cause.
You can send pre-loved Buro furniture to us if it's still in working order. We'll assess, clean, and refurbish it if necessary, replacing components like castors, bases, and gas lifts.
Once we've worked our magic on your old furniture, we can donate it to a charity shop, or sell it via an online auction. Auctions only partially offset some of the costs we incur to refurbish furniture.
Ganesh getting stuck into furniture refurbishments in the Auckland workshop.
Recycle it
Has your furniture seen better days? It might be time to recycle if you can't donate.
Recycling is another way to remove old furniture while minimising your environmental impact.
Many materials used in office furniture can be recycled, and some recycling facilities (depending on where you live) are happy to take pre-loved pieces and recycle their parts. 
Check the materials used in your furniture before you recycle, and research your local facilities to check if they accept office furniture. 
Once we receive pre-loved office furniture, we will check it for re-conditioning and re-purposing, extending its life.
If old office furniture can't be re-conditioned or re-purposed then we disassemble it and sort it for recycling.
Use the Buro Product Stewardship Programme
Respect for the environment is paramount at Buro, and we've created a Product Stewardship Programme to guide our customers through the disposal process. We ensure pre-loved Buro chairs can be firstly, repurposed then recycled wherever possible.
If your Buro furniture is in good working order, we encourage you to give it to a charity shop. If it isn't, we'll find a solution.
Working our magic with your old furniture
If your furniture is no longer working, get in touch with our customer service team to explore your options. Once you've returned your furniture to our warehouse, we'll repurpose it if possible, otherwise it'll be disassembled and sorted into respective components. Anything salvageable will be recycled by third-party facilities.
If you have any questions about how our Product Stewardship Programme works, read our FAQ's.
Our commitment to sustainability
Reducing waste and minimising our environmental footprint is a key part of our sustainability programme. Repurposing and recycling office chairs and furniture can curb waste generation and reduce our carbon footprint. 
We do everything we can to ensure chairs and furniture parts don't end up in landfill. Please get in touch with us to discuss your options. 
Minimising waste and reducing our impact 
Our furniture is built to stand the test of time, meeting the very highest quality and certification standards.
The life of office furniture doesn't have to end once you've finished with it. Whether it's an ergonomic office chair like the Buro Elan or Buro Mantra, or a large furniture suite like the Konfurb Block Family or Konfurb Halo Ottomans, we can take pre-loved furniture pieces and restore them, or recycle their components for future use.